Refill for Plastic Free Challenge
6th Feb 2018
Every year since 2015 the Green Hat team has given up as much single-use plastic as possible for around a month to correspond with the dates of Lent. We've shunned bottled water in favour of refilling, had our reusable bags at the ready and practised Herculean strength of will by avoiding plastic wrapped snacks and treats. This year along with our plastic-free diet we're promoting an amazing initiative to help support the plastic-free cause.
Help promote Refill and the Plastic Free Challenge in your workplace by downloading and printing out the full size version of our poster: Refill poster
Refill is a national tap water campaign that makes refilling your (reusable) bottle as easy as possible. A great way to cut down on plastic waste and cut cost! The idea was launched by City to Sea in Bristol in September 2015 and the scheme has since been rolled out across the country. There are now 1600 Refill points around the UK from Devon to Dumfries, and the idea has even inspired our European neighbours – hot on the heels of Refill Hamburg, Refill Berlin hit the German capital last year. Meanwhile in Bristol there are plenty of refill choices from water fountains to local eateries. Just look out for the Refill sticker on the window of friendly cafes, shops, pubs or hotels and fill up your water bottle for free.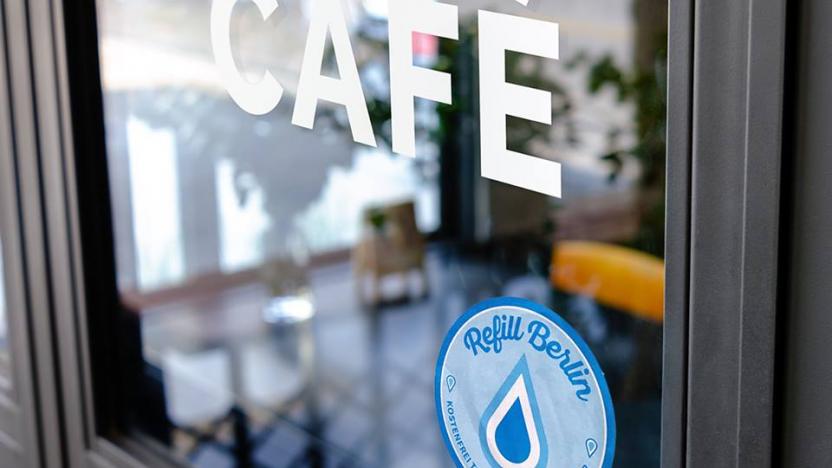 Plastic bottles make up a third of all plastic pollution in the sea, so tackling this issue has been high on the agenda for City to Sea. They say that the average UK household uses 480 bottles a year but just over half of these are recycled. Nationally this means that nearly 16 million bottles aren't being put out for recycling. "There'd be 340 million less plastic bottles in circulation a year if one in ten of us refilled once a week" says City to Sea.
According to scientists up to 12 million tonnes of plastic enters the ocean every year. That's a rubbish truck full every minute. (Greenpeace 2017). If plastic waste continues to enter the sea at its current rate, plastic in the ocean is predicted to outweigh fish by 2050. So it's never been more important to find ways to cut down on plastic pollution.