The Voice of Nursing exhibition
The Royal College of Nursing
To celebrate their centenary, the Royal College of Nursing asked us to create an exhibition for The Voice of Nursing. We designed the exhibition layout, panels and interactive elements to tell the story of nursing and the RCN over the last hundred years.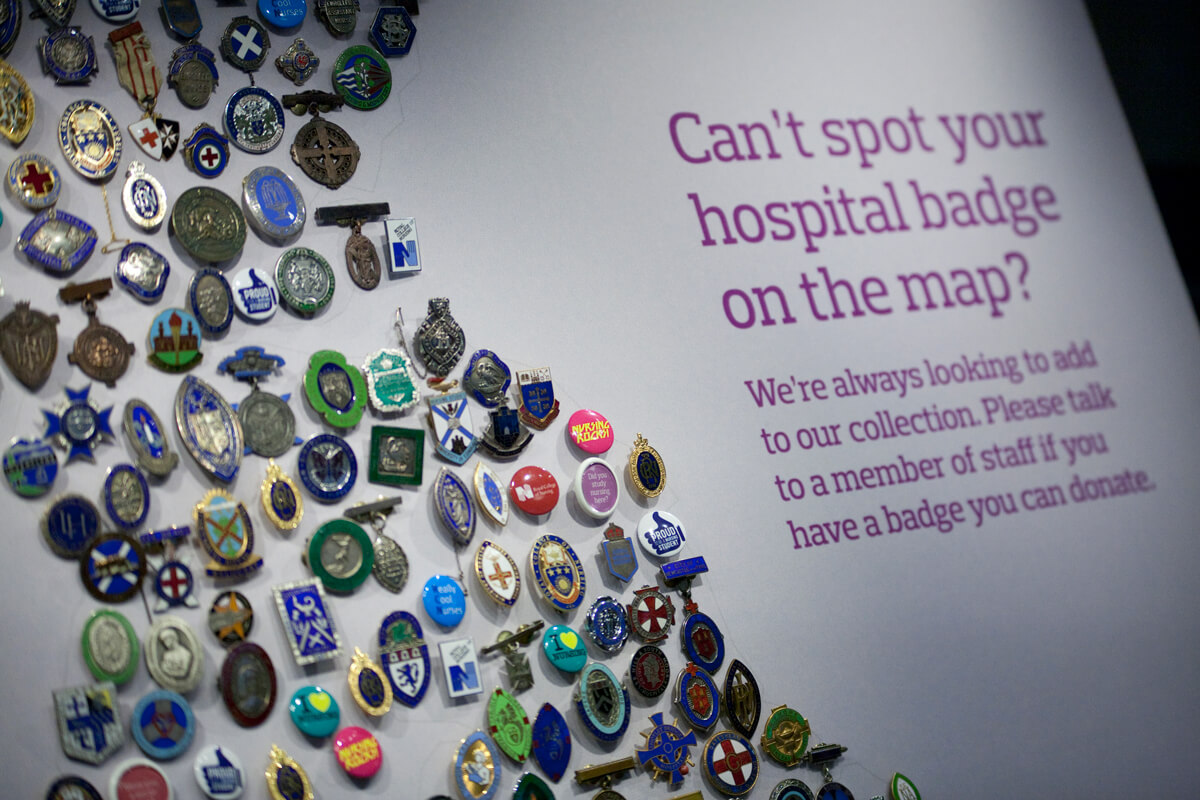 Founded in 1916 by Sarah Swift and politician Arthur Stanley, the RCN's aims were to regulate training for nurses and to ensure that nursing was established as a profession. Using archive material along with quotes and stories from nurses themselves, the exhibition tells the RCN's story from its early founding days right through to 2016. Along the way the panels show important events in the history of the College as well as some colourful descriptions of nursing throughout the decades and even a glimpse of the way nurses are portrayed in the mass media.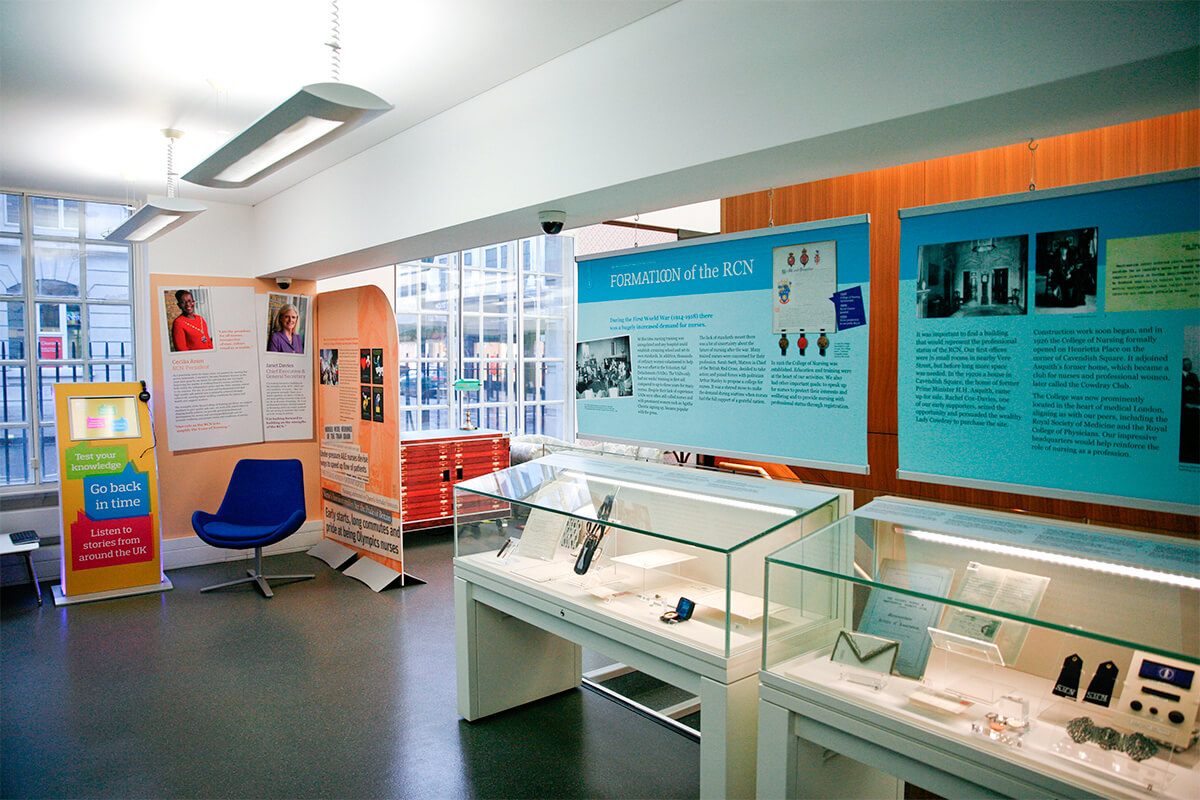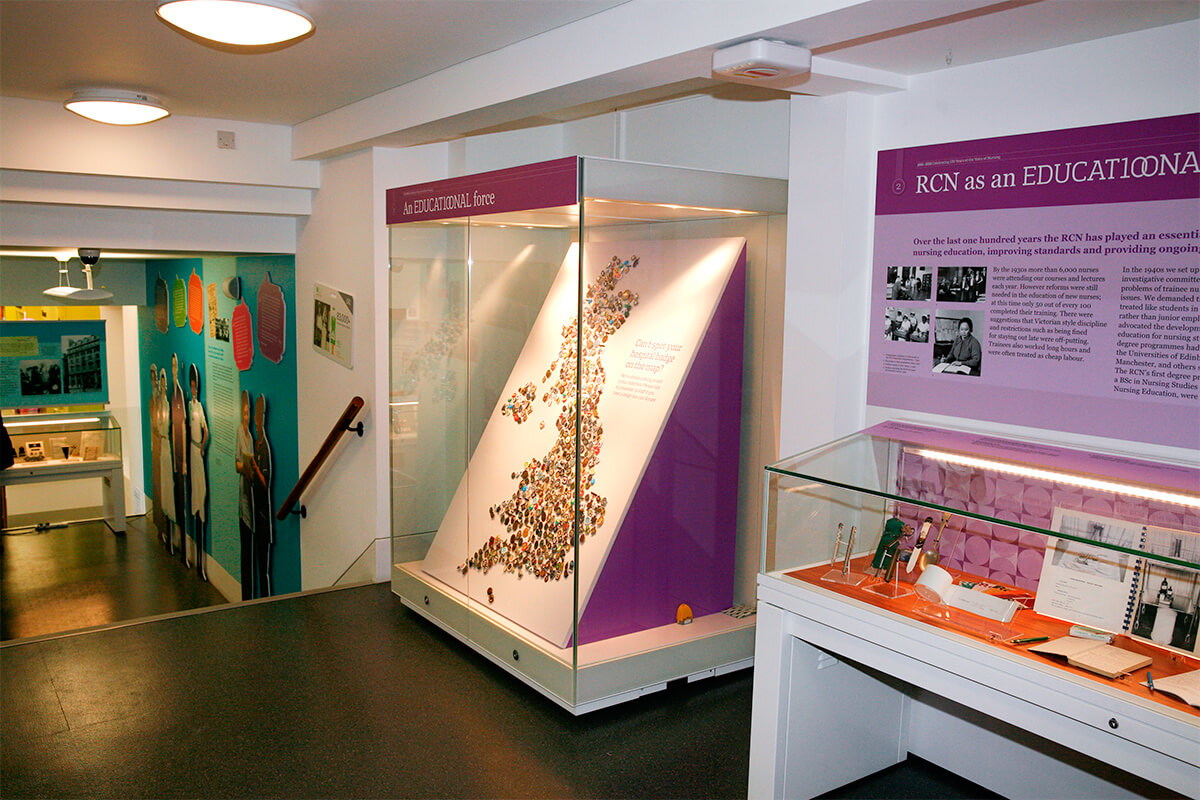 The client had an interesting space which made this exhibition quite a complex job. The area circles the lift shaft and is also a thoroughfare for visitors to the library. As well as this there are a number of windows looking out onto the high street which could potentially distract people viewing the exhibition. To create a more joined up space we cladded the lift with graphics and frosted the glazing on some of the windows. Graphics then created a journey through time; we used a variety of materials including foamex for the panels and stadur board for life-size cut out shapes of nurses throughout the ages.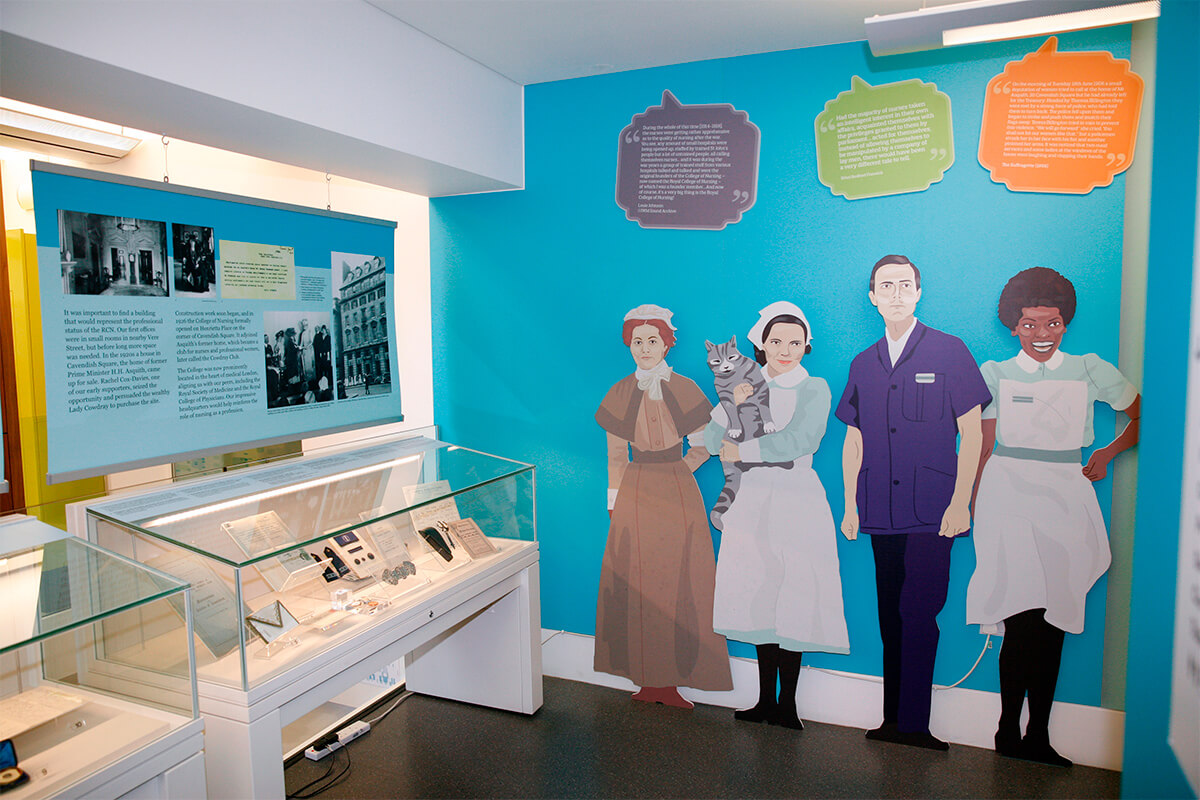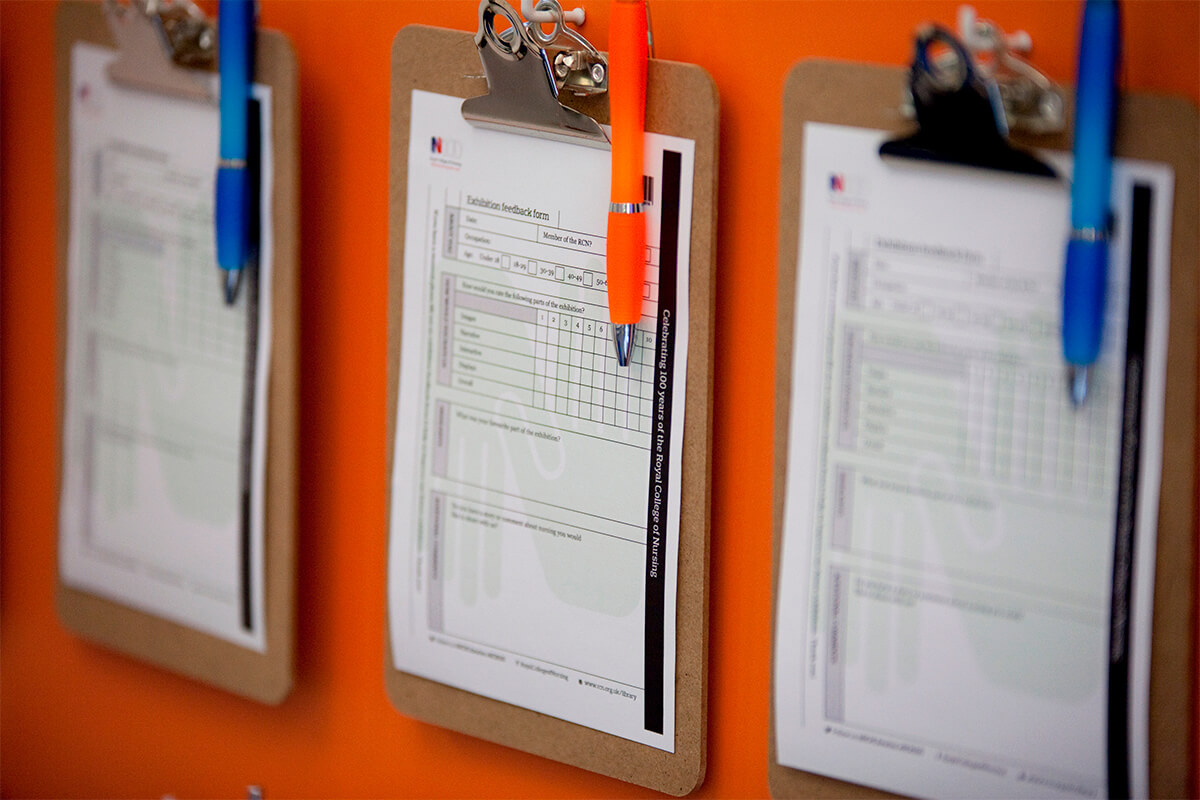 We also repurposed as many familiar nursing objects as possible, including screens, x-ray light boxes and observational charts, which doubled as feedback forms. The space is sprinkled with stats in the form of infographics and we used hundreds of nurses' badges to create a map of the UK as the centrepiece. We even transformed the RCN welcome area into an Edwardian style waiting room. Our aim throughout the exhibition was to ensure we created a fun and friendly space with accessible content.
The Voice of Nursing exhibition was launched on 12 January 2015 at the Royal College of Nursing headquarters near Oxford Street in London. It will be open until the end of 2017.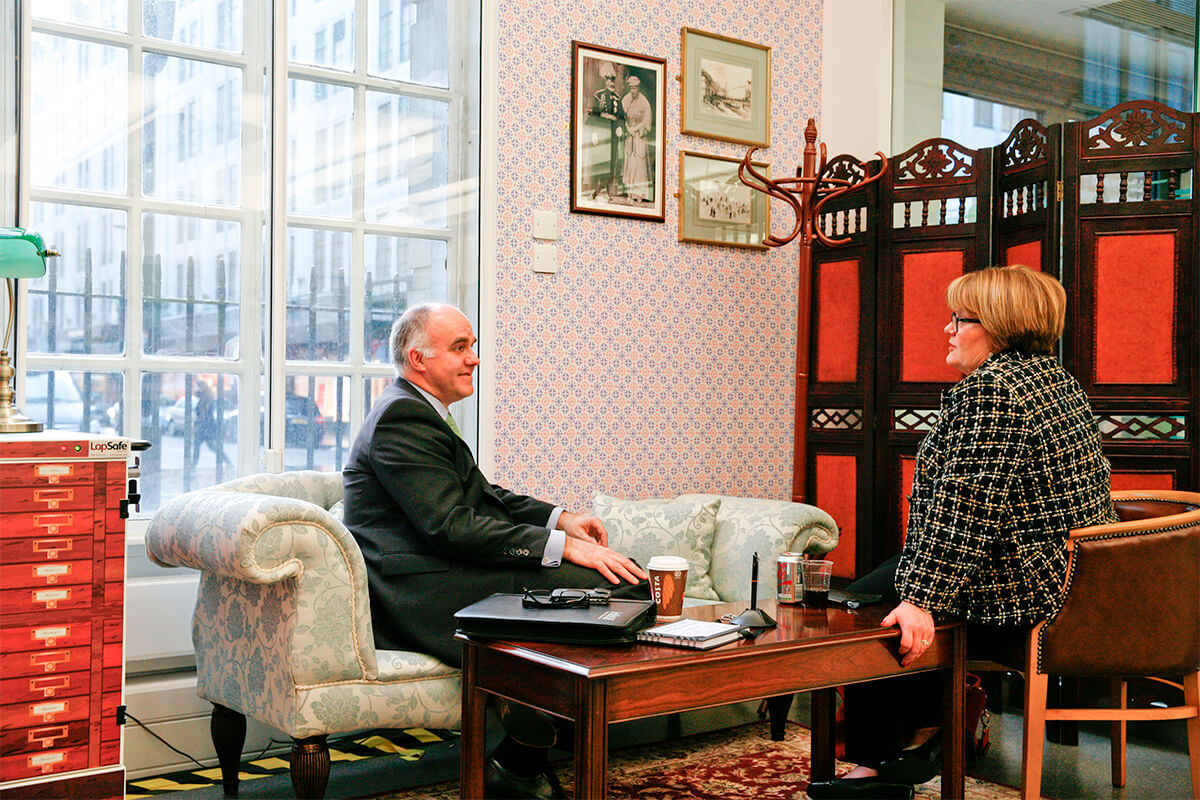 "Nursing is a proud profession and this exhibition takes pride in showcasing the institution that has protected and supported it for a century." — Museum Journal April 2016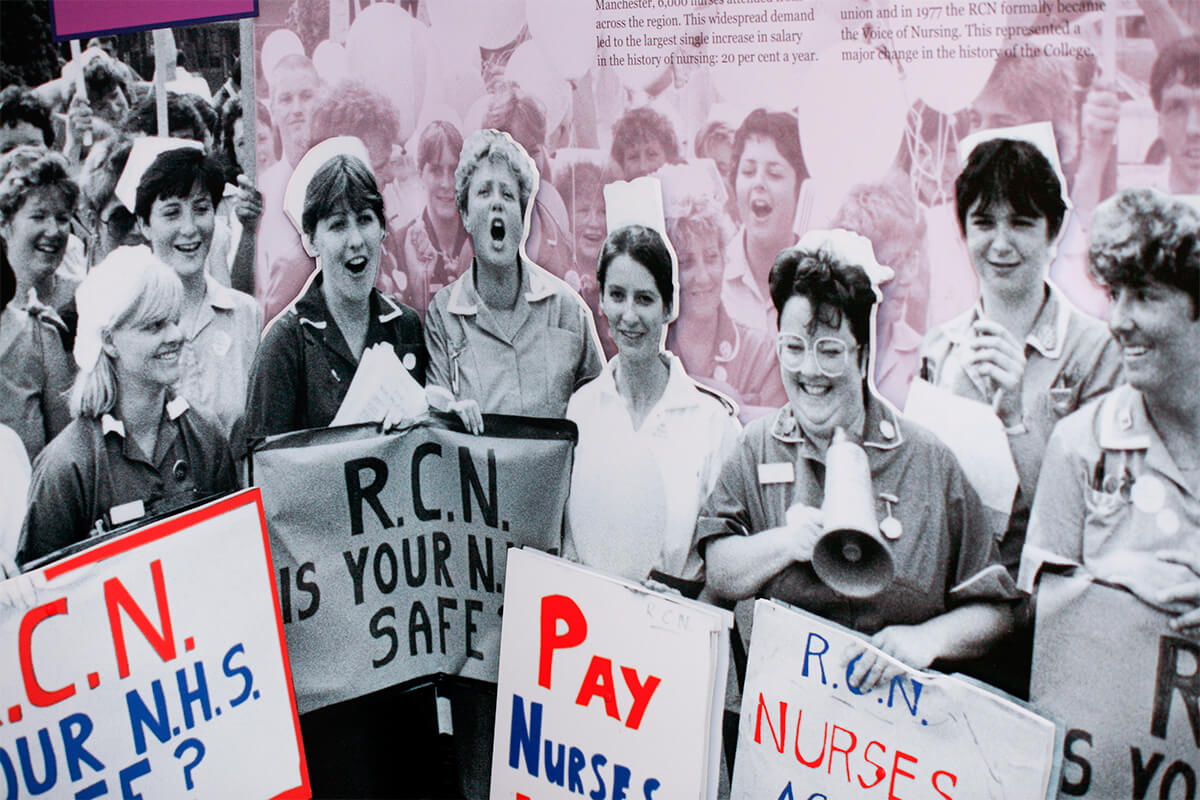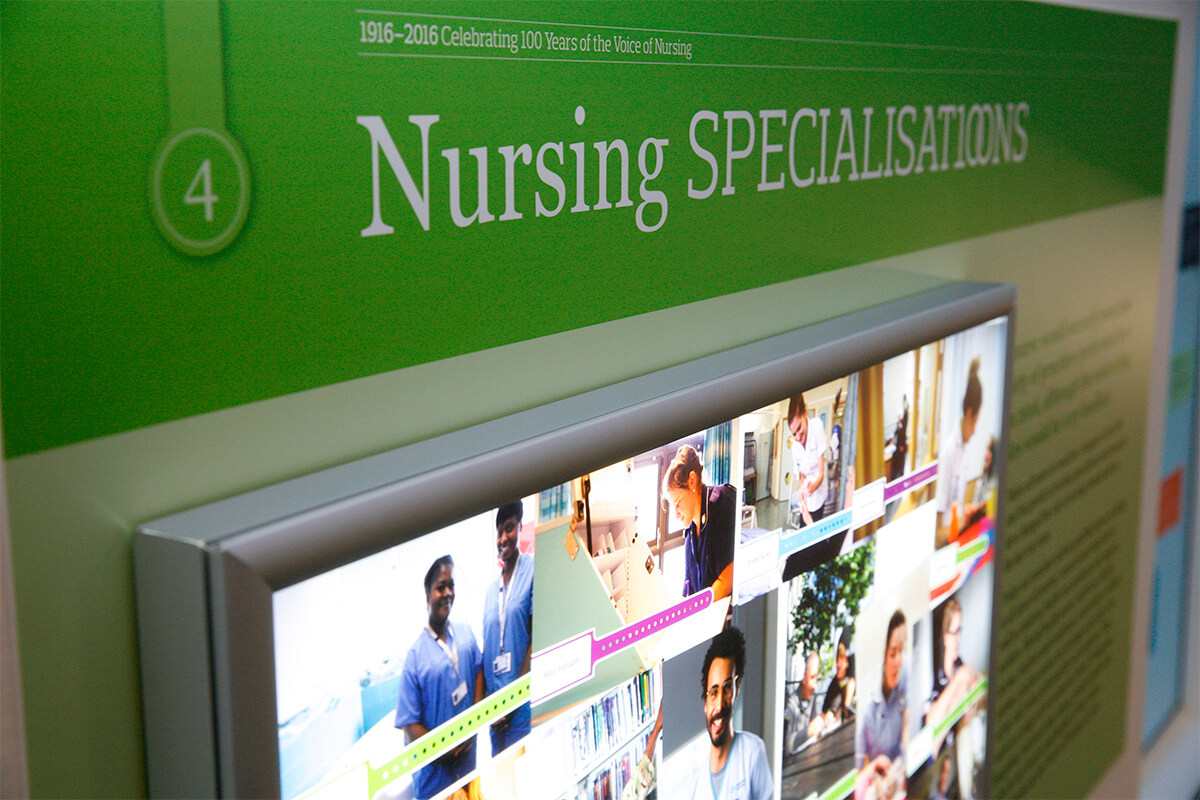 "From the initial brief to our first meeting with them, the RCN were very excited to be working with Green Hat. Their ideas for our exhibition showed real inventiveness, helping to organise and take forward our own ideas for the exhibition themes as well as realising a very strong design. Andy and Emma were a pleasure to work with – always responsive, and happy to talk through ideas and drafts, not only with the library team but also presenting to wider RCN staff and members. It was important for us to ensure that everyone's voice was heard, and Green Hat really understood this. Our previous in-house exhibition had not received much attention, but we now get frequent comments, and we've also had some great reviews! The exhibition has definitely helped us gain a wider audience, something we really value in our centenary year."
Sarah Chaney, Audience Engagement Manager, Royal College of Nursing Library and Heritage Centre